Meeting room in Breda: room up to 10 people
Looking for a meeting room in Breda? We know that sometimes it is difficult to find a nice yet affordable place. And especially when you want to use it more often, it's important to know where you're going to end up and that you can easily reserve the space.
These are all possibilities that we offer you, if you are looking for a place in Breda to meet. So have you already searched in the centre of Breda, for example, or just on the outskirts of the city near the highway? Our location in Breda is very easily accessible, both by car and by public transport.
We make it easy for you to rent a meeting room in Breda, which is located within walking distance of the station and where you can park for free in front of the door. This makes it easy to get everyone together, making sure you can sit down together at the same table on time.
Meet up to 10 people
At our location in Breda you have the choice of a number of different rooms, so you can come to us for different kind of meetings. You can easily adjust the meeting place to the way you want to discuss or meet, so that everyone has a place at the table:
Consult with your customer or someone else
Are you looking for a place to consult with your client or do you want to sit down with someone else for, for example, a coaching session? Meeting rooms and consulting rooms in Breda are available where you can, for example, meet two or three people. This way you can be sure that you can talk to each other quietly, in a space that is comfortable and ensures that you create the right atmosphere together.

Speaking to a few others
Are you talking about a small meeting, for which you want to get together with a few people? With room for, for example, 4 people, you ensure that there is a place at the table for everyone. It's the most convenient way to consult, which allows you to make the decisions that matter.

Meet up to 10 people
Or do you want to organize a larger meeting? You can get together with a maximum of 10 people to make sure that you can inform everyone at once. Or just to organize a brainstorming session in which you can creatively inspire each other.
Tip: do you want to give a course or are you looking for a workshop location in Breda? You can also use the space for that, so that you are very flexible in it.
Good location in Breda
Of course you want to use a location in Breda that is easily accessible. So do you want to rent a meeting place or a meeting room? We make sure that you can get there easily by car and public transport.
The meeting room you can book or rent is just a few minutes' drive from the A16 motorway. This means that you can easily drive to the location in Breda from all regions of the Netherlands. And do you come by public transport or do you know from your customers, candidates or participants that they do? That is also not a problem, because the station is only a few minutes walk from the office. When you come by car, you can also park for free, so that also makes the location extra attractive for everyone you want to invite to come to the meeting.
Near the office you will find a small shopping center with various shops and eateries where you can have lunch or order something. It's a nice way to meet, even when it comes to difficult conversations or when you know it might take a little longer.
Small to large: special and nice locations
Are you looking for a special meeting room in Breda or a nice place to get together with only a few people? There is also a small lounge area available, so you can be sure that you can meet informally with anyone you want to talk to in a cost-effective way.
And are you specifically looking for a special meeting location in Breda? The warm and informal way of decorating ensures that you have a good time there. We make sure that you can have a good conversation with each other, where you don't have to worry about, for example, the coffee and tea or the Wi-Fi connection available.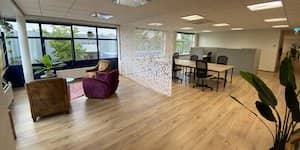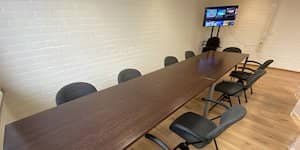 Meeting room in Breda
Our meeting room in Breda is available to everyone who has a PriOffice membership. And do you not want fixed monthly costs, but would you like to make use of the meeting room in Breda? This is also possible, so that you have complete freedom.
We are happy to offer you the flexible possibilities you are looking for. Moreover, you pay a low price, to come and meet in Breda in an economical way. The location is very representative and very easily accessible from various corners of the Netherlands and of course also from Belgium. This way you can be assured that you can get everyone together and have an effective meeting with each other.
Are you ready and want to join PriOffice?
Easily arrange it in a few minutes.
Do you first want some more information or do you have a specific question?
Call, mail or chat with one of our employees via the contact page.