Renting office space in Rotterdam
Renting office space in Rotterdam? If you are looking for a flexible workplace, we are happy to help you with that. With a free membership to easily control costs or on the basis of a low-cost paid subscription. Even with unlimited opportunities to use office space, both to work and to meet whenever you want. And for example to organize a training or a workshop, so that you can really go in all directions.
So are you looking for flexible office space or a workplace for rent in Rotterdam? You decide how you want to use it. Of course with a good wifi connection and delicious coffee, just like the other important facilities. To work hard on that challenging Excel sheet or to finally finish that article whose deadline is quickly approaching. And so that you can get started with everything you don't get around to at home. In a nice office space that can be rented in Rotterdam. Per part of the day or on the basis of a paid subscription with important benefits.
Working in flexible office space
Do you want to rent office space in Rotterdam, which you can use flexibly? You have the choice of three interesting possibilities:
As you can see, the workplace can be rented in the way you like. Always with the ability to work flexibly, in a professional environment that ensures that you get get things done. With fellow entrepreneurs nearby or a bit more isolated, to concentrate and be able to make the meters that are important.
Have a meeting with colleagues and customers
Curious about what office space is for rent in Rotterdam and would you also like to have a meeting there? With us you can do both, so you can use a flex space that offers you more possibilities.
You can rent the office space to work independently, although you also have the opportunity to meet with fellow entrepreneurs or customers who would like to visit you. To discuss a new assignment or to review the progress. In a room for 2 to 10 people, so that you always have enough space to meet in a nice way.
Just like the office space that can be rented in Rotterdam, you can also book the meeting rooms. By booking online and making sure the space is available. For you and your fellow entrepreneurs or customers, who can of course all use the Wi-Fi connection, the coffee and the tea. For great facilities, so that it will not be because of that when you organize a meeting at the office in Rotterdam.
Workshops, trainings and more
And are you looking for office space for rent in Rotterdam that you can also use for other activities? We'll list a few options for you:
Workshop
Do you want to give a workshop and are you looking for office space that you can rent in Rotterdam? Make use of it very flexibly. Pay per part of the day and get a 25% discount on the rental price with the Plus subscription. So you can give workshops regularly, without having to receive the candidates at home or at another expensive location.

Organize a training
Do you want to organize a training and make a professional impression? The office space you can rent in Rotterdam is ideally suited for this. So you can train 2 to 10 people, in a place where good wifi is available and where the participants can of course use the coffee and tea. In a fine and representative environment, with which you as a trainer make the right impression.

Plan a meeting
Do you want to schedule another meeting? Make sure you can receive everyone in the meeting rooms available. So you don't have to look for another location and don't have to invite anyone to your home anyway. While as an independent entrepreneur you are completely flexible and don't have to incur too much cost.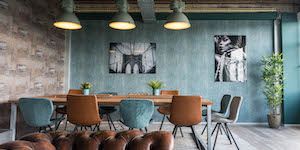 Renting office space in Rotterdam
Do you want to rent office space in Rotterdam and are you curious about the cheap possibilities? We'll prevent you from paying too much for that. While in the meantime you can count on an easy-to-reach location. Close to the A15, A29 and A16 at our location Rotterdam I, located opposite the Zuidplein shopping center. Or right in the center at our location Rotterdam II, which is easily accessible by public transport. For office space that meets all your needs.
Are you ready to rent office space in Rotterdam?
Easily arrange it in a few minutes.
Do you first want some more information or do you have a specific question?
Call, mail or chat with one of our employees via the contact page.