Training room Amsterdam
Looking for a training room in Amsterdam? If you regularly give trainings, workshops or courses it is of course important to use a good space for this. And are you planning to do this for the first time? Of course, you want to make a good impression right away.
We'd be happy to help you with that. With the traning room you can book in Amsterdam. Very flexible and economical, because you can even use it with our free membership. So you only pay for the use of the space, in which there is room for a total of 8 people.
Thanks to our good locations, including Amsterdam, the course room is easily accessible. For students who come by car and also for anyone who uses public transport.
Book a training room in Amsterdam
You can use the training room the way you want. If you are looking for a presentation room in Amsterdam and for example if you want to give a workshop. Where you use the whole space and want to give a presentation, for example. Or where you want to put others to work, where they have enough space to execute the assignments properly.
In addition, of course, there is coffee and tea. And you have the choice of different training rooms in Amsterdam. For more or less people and with the possibility to meet in a formal or a more informal atmosphere. So that you decide how you will use the training room in Amsterdam, for the course you will soon be teaching.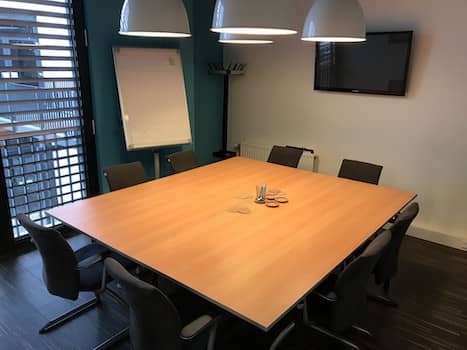 Ready to give a training in the PriOffice space?
Easily arrange it in a few minutes.
Do you first want some more information or do you have a specific question?
Call, mail or chat with one of our employees via the contact page.